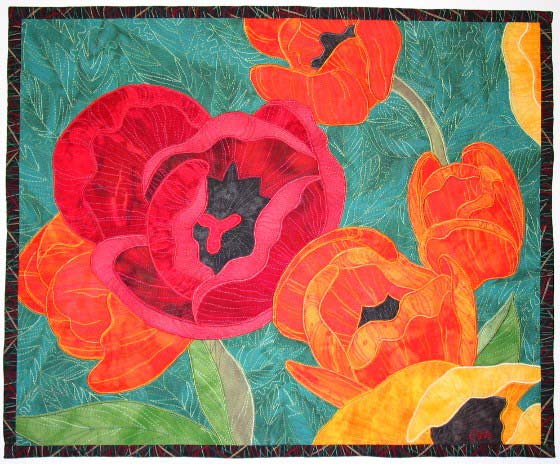 Where Eagles Dare
2009, 18" x 24"
FOR SALE - $1.075
A pieced picture, this was the 2008 Nine Quarter Circle Ranch project.
Starcrossed
2005, 61" x 64"
FOR SALE - $13,995
This quilt is a collaboration between me and my daughter, Aubry Kae Andersen. Aubry created the design and painted the faces and the warrior's armor on silk. I did all the stitching including the various motifs that were digitized and embroidered using software and an embroidery module. The fabrics are mostly silk and the top was constructed with the aid of Charlotte's Fusible Web. The threads used are almost exclusively Superior Threads. It is heavily machine quilted with free motion designs and walking foot patterns.
Awards won by Starcrossed:
Best of Show, 2007 Mid-Atlantic Quilt Show
I Shed, Therefore I Am
2003, 48" x 60"
NOT FOR SALE
A memorial quilt for my dog, Betsy, who passed away in 2002. She was one of the most shedding of dogs and this quilt, while expressing my fondness of Betsy, is also an indictment of my housekeeping skills.
Overrun
2004, 70" x 26"
FOR SALE - $3,450.00
A simpler design with only three rabbits was the project for the 2004 Cowgirl Quilter Retreat at the Nine Quarter Circle Ranch and this quilt is an elaboration on that project. The ranch itself is always well stocked with bunnies and I got down on the ground with my camera so I could take eye-to-eye photos for use in this quilt.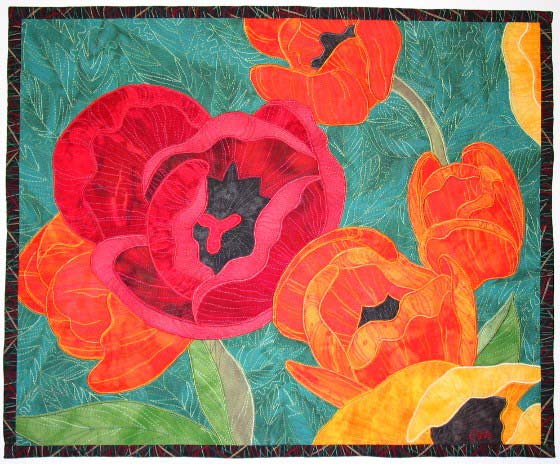 Tulip Trove
2004, 23" x 17"
PRIVATE COLLECTION
Made for the IQA Silent Auction for 2004. Superior Threads owns the twin of this quilt to demonstrate how Charlotte's Fusible Web can be used and the quilt can be seen at shows where they vend.
Trailride
2003, 19" x 25"
FOR SALE - $1,195.00
This was the project for the 2003 Cowgirl Quilter Retreat at the Nine Quarter Circle Ranch. I also made two of these quilts. One went to the 2003 IQA Silent Auction (Ricky Tims bought it) and the other is available for sale.
Sly Embrace II
2002, 22" x 30"
PRIVATE COLLECTION
A fusible thread construction. Sly Embrace I and II both have the exact same flowers in the foreground but have very different backgrounds.
Cathedral Cove
2004, 38" x 28"
FOR SALE - $2,425.00
Created from a photo I took on a bright sunny morning in New Zealand, this quilt shows Cathedral Cove, a natural landmark, in all its beauty. Hand appliquèd, machine quilted.
Cathedral Cove (Small)
2003, 19" x 15"
FOR SALE - $575.00
Smaller, machine appliquèd version of the larger hand appliquèd quilt of Cathedral Cove.
Stud
2002, 15" x 18"
PRIVATE COLLECTION
This was the project for the 2001 Cowgirl Quilter Retreat at the Nine Quarter Circle Ranch. It is hand appliquèd and machine quilted.